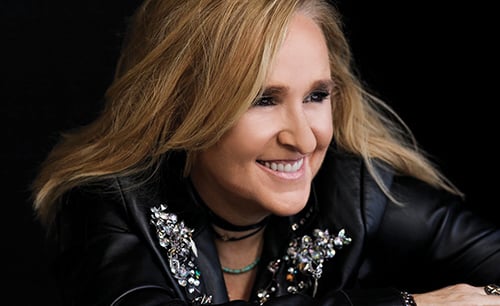 Melissa Etheridge – It's The Journey, Not The Destination
via
Race World
:
Someone who embodies San Diego Pride's pioneer spirit is Melissa Etheridge. In 1993, she very publicly flung open her closet door at the Triangle Ball, a gay celebration of President Bill Clinton's first inauguration. So, it's no surprise the name she chose for her breakthrough album, released in the same year, would proclaim proudly, Yes I Am! Music that launched her into rock superstar status, with multi-award-wining hit singles like "Come to My Window" and "I'm the Only One."
Since then the smoky-voice singer has racked up an impressive musical resume as a two-time Grammy-winner and a Best Original Song Academy Award-winner for "I Need to Wake Up" from Al Gore's film An Inconvenient Truth. Not bad for a girl from Leavenworth, Kansas, who dreamt of entertaining the masses. Etheridge has also faced adversity on a personal front, battling breast cancer in 2004… and in true pioneer fashion, winning the fight and continuing since to thrive.
On her latest album, The Medicine Show, Etheridge as she always has, paints with broad brush strokes honest portraits on such songs as: "This Human Chain," "Last Hello" and "Faded By Design."
The Rage Monthly recently spoke with the venerated singer/songwriter, who will be performing at the Pride Festival, about what makes her proud.
What would you say your personal mantra is?
Be strong and speak true.
With it being the 50th anniversary of Stonewall and the Gay Rights Movement. What makes you proud?
Pride is a funny thing; pride is that sense of peace with yourself. I am proud of my choices, I'm proud of my love, I'm proud of my family, I'm proud of my community, I'm proud of the gay community, I'm proud of this nation and how we have slowly, and a little bumpilyhttps://www.ragemonthly.com/2019/07/04/melissa-etheridge/ moved forward into equality and understanding. I tell you this month has been so gay! Everywhere I go it's very gay. It does mean a lot, it really matters.
How important is it for you to be a role model?
Well, that's not something you say, "Oh, I want to be that." I want to influence and inspire young artists and young people who are looking for their place in their life. If I show them they don't have to conform to other's ideas of what a certain thing looks like—when they can be themselves, be an original and be exactly who they were made to be—then that's just added extra yummy.
What was the inspiration behind your new album, The Medicine Show?
Life in the last couple years. 2016 was such a slap in the face! It was, "Oh, okay, this is what we're doing!" I knew because of the 2016 election that my next album would be fiery and filled with the issues that we find ourselves walking through. These issues are deep dark secrets that are brought out into the light; we can't hide that anymore. It's the journey that is difficult, but the strength we get when we go through this journey, makes us stronger, better and sets up a better system after this whole thing.
That's what this album is about… and my medicine. When I say "medicine," it's about cannabis. That's one of the subjects, as well as human rights, the #MeToo Movement and what we consider a healthy life. That's what The Medicine Show is about and the songs, they're not preachy, they come from a personal place.
What advice would you give your younger self as a girl growing up in Kansas?
I would say, "It is about the journey, my dear. It is not about getting to that place of being rich and famous. It's the journey, so enjoy it, look around you. You are in the process of becoming." And then I would say, "Do more sit-ups. You'll want that later in life!"