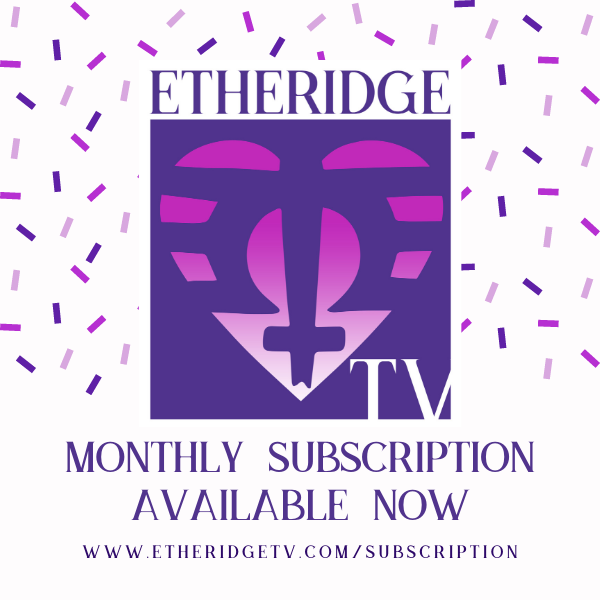 Etheridge TV FAQ
Etheridge TV is Melissa Etheridge's live streaming and video on demand platform.
Single tickets are $10
Monthly Subscription is $50 and auto-renews 30 days from the date you subscribe
There are 5 live streams per week Tuesday-Saturday at 3 PM PT (check your local time).
If you miss the live stream don't worry, all Etheridge TV Live Stream content will be available on demand for 48 hours following its original livestream air date.
Monthly Subscribers have access to all content aired for 60 days after the original air date.
Purchase and View
Introducing ETV Premium
You must be a monthly subscriber to access Etheridge TV Premium.
Etheridge TV Premium will have all Etheridge TV Videos available on demand and will be the go-to video library for everything ETV after the original VOD period of 60 days.
ETV Premium is $10 per month in addition to the $50 per month subscription and available starting March 1 2021.
Get ETV Premium Access here: https://www.etheridgetv.com/etheridgetvpremium
Schedule and Show Description: Live Streams 5 Days a week (Tues-Sat 3 PM PT)
Profile and Log-IN
Create a profile and log in at https://www.etheridgetv.com/
Happy to announce that our new User Profile feature and updated Help Desk are live!
The User Profile feature now allows viewers to do the following:

View their current and previous ticket purchases
View and manage their active subscriptions
View and manage their payment methods
See which email is associated with their account

Here is a link to the Viewer Help Center which has more FAQs and How Tos around this feature.
The Help Desk is now powered by Zendesk. This means instead of emailing

[email protected]

, they can visit help.maestro.io and click Submit a Request for assistance with their issue.
Are you ready to view Etheridge TV? Do the following:
Select the show or subscription you want to purchase and come back to the channel to view live at 3 PM PT.
You will need to be logged into the same account that you purchase your ticket or subscription with when you go to view the live stream or VOD content.
If you purchase a ticket or subscription when you are logged in with your email account you need to log in with that account.
If you use your Facebook log-in and you have purchased a ticket/subscription then you need to use your Facebook log-in to see the live stream content.
If you are logged in and unable to access, check your User Profile for your subscription status. If you do not see an active subscription, you may be logged in with the wrong account.
If you want to buy multiple tickets:
Go back to the main page by clicking on our logo top left to buy tickets for the other shows from the pull-down menu.
You will get an email from Maestro as your receipt. You don't need a code to access the show just go back to the relevant channel and your content will be there at the time it goes live and available on demand for 48 hours.
Where is the live stream happening?
The live stream will be happening on the channel link for each show at 3 PM PT (check your local time).
PRO-TIP Bookmark the links for easier viewing
I'm having a problem with the live stream! What do I do?
How do I sign in to the live stream? Do I need an access code? One more time just in case
Once you've paid you will get a receipt form Maestro in your email.
There is NO CODE needed.
Go straight to the channel whether you bought a single ticket or a monthly subscription and use the profile that you bought the ticket with.
Links are here
If you are a monthly subscriber you get access to all the shows here on demand for 60 days
What's the BEST way to watch? The Fancy TECH TALK. Pay attention here.
Chrome works best with this platform
We recommend watching on a tablet, computer, or TV on Theater Mode (click the two arrows pointing at each other in the bottom right corner of the live stream).
Don't forget to charge your portable devices!
There will be interactive elements like polls and questions, which can be interacted with via your devices. If you are connected with a TV, you will need to interact on the computer or tablet that's sending the feed.
For the best experience, test your connection speed: Open your Internet browser and visit speedtest.net to check your connection speed. You'll want to use either a cellular data or Wi-Fi connection that registers a speed of at least 30 Mbps. Hint: Remember to test the Internet speed in the same location, as you will be live-streaming the concert.
Using an Ethernet cable will ensure the best stream.
STREAMING TO YOUR TV
You can also setup the stream to your TV using any screen mirroring tool (e.g. Apple TV, Fire TV, Chromecast) or a good old-fashioned HDMI chord.
When should I arrive for the concert?

We STRONGLY recommend logging in about 30 minutes prior to the concert to be sure your device/internet is working and give yourself time for troubleshooting if you are having an issue visit help.maestro.io and click Submit a Request for assistance with their issue.
What is the refund policy for live stream tickets?

All ticket code sales are final. There will be no refunds, exchanges, or name transfers under any circumstances.
I purchased a Virtual Concert or Live stream Event ticket but am no longer available for the event. Can I get a refund?
Unfortunately, this event is non-refundable, but you can re-watch up to 48 hours after the concert. If there are extenuating circumstances such as a true medical emergency, please email us at

[email protected]

and we will try our best to take your request into consideration.
What if I missed the concert?

We will keep the live-stream video up on the site for 48 hours following the show (except for Tuesday which is live stream only)! If you did miss the event completely, unfortunately we cannot issue a refund.
I want to purchase a Ticket as a gift for someone else. How do I do that?

Concert ticket products are non-transferable to avoid scalpers, however, if you want to purchase for another person you can create a log in for them with their email address and a password at checkout, and then send them the log in information. There are no name changes available for this product. This will be updated soon.

If I refresh the page, will I be kicked out of the stream forever?
No! Refresh all you want.
Can I Record The Event?
Audio or video recording on your own device is strictly prohibited.
Got Flagged, What Does That Mean?
You were flagged because of inappropriate behavior in the chat room. This may be because of violations of the Maestro Terms of Service you agreed to when creating an account on Maestro. If you feel you were wrongfully flagged or flagged by mistake, please email

[email protected]

.