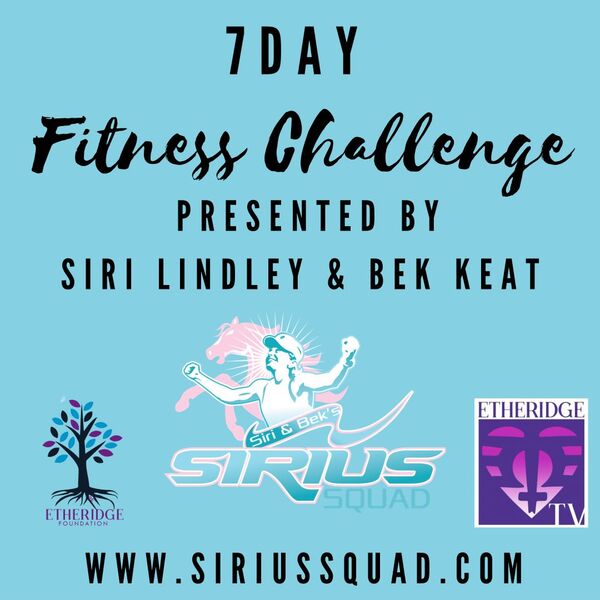 7 Days Fitness Challenge
7 Days Fitness Challenge
PLUS a 7 Day Meal Plan FREE for all our Etheridge Nation members!!
This is our way to give back to YOU & a way to thank Melissa & Linda for the incredible impact they have had on all of us!
We are so excited to share our combined 50 years experience as World Champion athletes high performance coaches in health & fitness mind body and spirit!
You will not be disappointed and we know you will benefit so much from this kick start to a NEW YOU!
This 7 Day Fitness Challenge will start November 4th and end November 10th! ( or you can also choose to start anytime).With daily 15-20min live video workouts a printable 7 Workouts PDF and 7 Day Meal Plan!
Click the link below to kick start your fitness today:
https://www.siriussquad.com/7-day-challenge/
7 Day Workout PDF
7 Day Meal Plan
Live workouts video link
Strength Conditioning session
Email blasts from health and wellness experts with strength conditioning, nutrition, menopause tips and much more!
Valued over $500 absolutely no gimmicks and no expectation just a way for us to help our friends & family with their health and fitness!
You will be emailed the workouts each day for 7 Days November 4-10th!
Email will include workouts of the day plus link to LIVE workout!
Start Your Fitness Journey Today
*This program is offered FREE, however if you think Melissa & Linda have positively impacted your life a donation is warmly received!
How much is your health worth?
All proceeds going to benefit Melissa's Etheridge Foundation.